Last night's dinner was so delicious - Taco Casserole with Oatmeal-Yogurt Cake for dessert. My son gobbled it up, so I think it's safe to say it was a success.
Taco Casserole
(I don't know where this recipe originated - it's been on an index card in my recipe box for at least two years)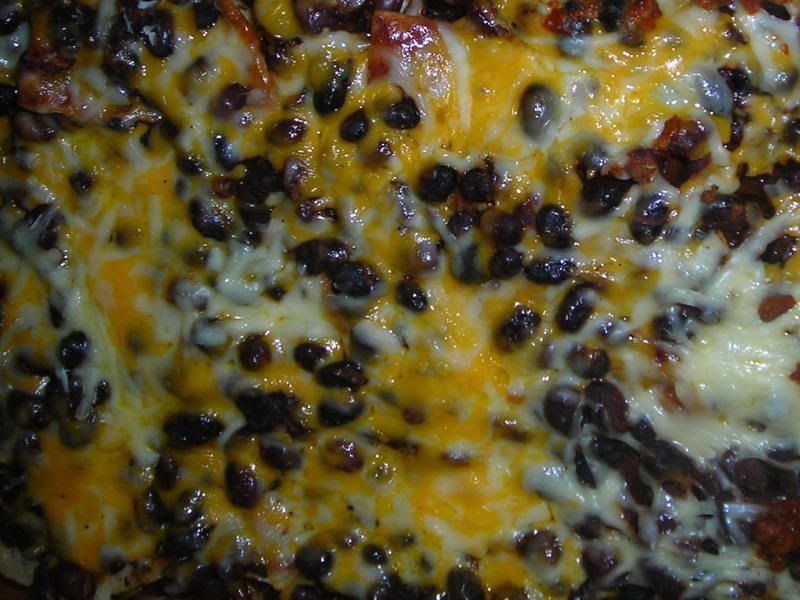 2 cups TVP or 1 package
Yve's Ground Round
2 packages of taco seasoning
Water
1 1/2 cups of corn
1 small can of tomato sauce
1 bag of tortilla chips
2 cups black beans
1 onion
2 cups cheese
Warm the TVP or Ground Round in a pan with onion and 1 package of the taco seasoning. Add tomato sauce, water, and corn (you want just enough water that you have a nice thick sauce going on). Let simmer.
In a separate pan, heat the black beans with the remaining package of taco seasoning, and enough water to create a thick sauce.
Line a baking dish with tortilla chips. Pour the TVP mixture over the chips and cover with 1 cup of cheese. Add another layer of tortilla chips, pour in black beans, and cover with the remaining cup of cheese.
Bake at 350 for about 20 minutes.
Oatmeal-Yogurt Cake
I got this recipe from Mollie Katzen's cookbook,
The Enchanted Broccoli Forest.
This is a most excellent cookbook, one I recommend for every family, vegetarian or not. To ice the cake, I used the Cream Icing recipe also found in the book.